The Telephone Song
A bevy of beautiful telephone operators regale you in song with the joy and simplicity of making a telephone call. An extract from a film made by the GPO Film Unit, called The Fairy of the Phone (1936). Producer: Basil Wright, Director: William Coldstream, 12:45. "A fanciful comedy with musical sequences. The script was based on Page 6 of the London Telephone Directory – instructions to subscribers on the use of the telephone.". This particular clip is popular with producers of documentaries about the telephone and has appeared on television a number of times – for example, Inventions that Changed the World introduced by Jeremy Clarkson.
The British Film Institute wrote: "Painter William Coldstream was, like W H Auden and Benjamin Britten, an employee of the GPO Film Unit from 1934-37. This film conveys the information given to telephone subscribers through the format of a musical review. The fairy of the phone gives useful hints as she tiptoes along the wires." To watch the video of the song click on the image below
Listen to the song as an MP3 file [321 kB]
You can watch the complete film on the BT Archives site at https://bt.kuluvalley.com/view/wJwL3stMrjm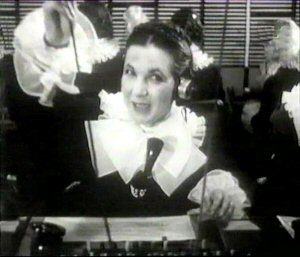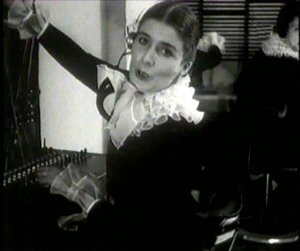 Lyric
With trunks and toll and telegrams
and all exchanges too,
just telephone
and we will put you through.
Ring ABErcorn or ARChway.
Ring MAYfair, HOP or SLOane.
Ring anywhere:
we're waiting on your phone.
Do you want a little warning
to make you get up in the morning?
Is your house on fire?
Do you want to send a wire?
Just lift up the receiver.
That's all you've got to do
to telephone
and we will put you through.
The video clip used to play on a loop at the BT Museum in Blackfriars, which is where I remember it from. The Fairy of the Phone is included in the collection We Live in Two Worlds from the GPO Film Unit Classic Collection, available from BFI shop and other sources.
[pictures, lyric, video and recording © The Post Office]
Thanks to John Chenery for additional information.
Recordings